Wow...it HAS been a while since I updated indeed.
Lindsay put on Hitchhiker's Guide last night and this line stuck like crazyglue:
"The one. The only question I've ever wanted an answer to - is she the one? The answer bloody well isn't forty-two, it's yes. Undoubtedly, unequivocally, unabashadly yes. And for one week, one week in my sad little blip of an existence, it made me happy."
And I just recalled that I haven't blogged about the Xmas party we had last year...will do so in a future entry.
Oh well...let's go onto the updates shall we?
*****
Before we go into the yummy details, the photos can be found at:
SG Holiday Dec 2006
SG Holiday Jan 2007
Aussie Day BBQ 2007
Nadia's Birthday Drinks 2007
All the photos are reduced so if you want the originals, leave me a message and I'll email them to you.
*****
So where were we? So yes! The Holiday! (Not the movie, that I still wanna watch but have to wait for the DVD now [sobs])
I have to admit that alot of things that happened when I was away feels fuzzy and distant already. I probably will omit things that I originally wanted to write about but hey...it was a holiday. I didn't want to spend all my time writing...Hahaha.
Let's see...the day I arrived back home, it rained. It rained like there was no tomorrow and my mom told me that it was worse the week before. Amazing! I got home, relaxed a little, and rushed down to CTK for Christmas Midnight (at 11pm ironically) Mass. It was so good being back but yet...the place is very alien. After mass, we proceeded to Stacey's for supper and it was good catching up with her and her family and Josh. It feels like ages ago since we last met to have a chat (oh yes...it was a year ago!)
Now...I cannot recall the rest of the holiday to an exact degree but it revolves firstly going to Sim Lim to get a new portable HDD for my sis, help Gavin pick out some hardware and getting myself a new point-and-shoot Camera. Heh. And most (if not all) the pictures in this entry were taken on this new toy.
Adventures @ Suntec & Marina
Sometime during the first few days, I met up with Justin, Anthony and Karyn at Suntec City for something. Just a normal meetup I think. And we met Doris T & Family at the new Marina Square after that.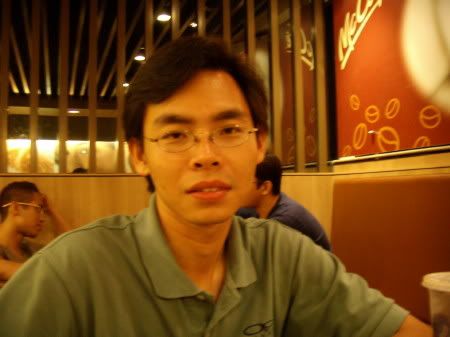 Mr JZT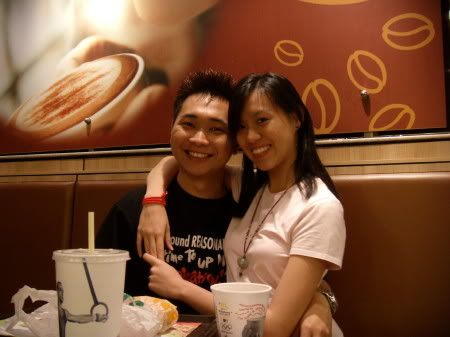 Anthony & Karyn
And on the same day, I had dinner with Dao, Ryan, Diana and Gina. And then desserts at some Japanese place where Weixin and Wendy joined. It was soooo knackered after that...it wasn't funny siah.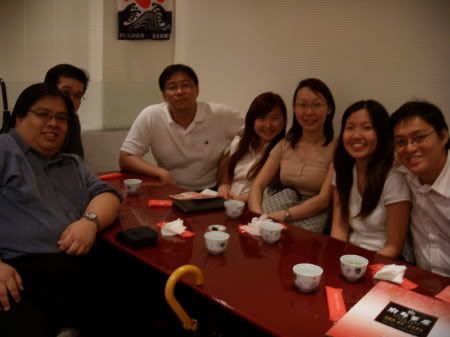 The Gang
*****
There were plans made to meet up with Nat, Debs, Amy, Chua and Glenn but Glenn wasn't free on Friday so I had lunch with Glenn on Thurs instead. We went to a hawker centre near Tanjong Pagar MRT and I finally had my Kuay Chup! Slurp! He then took me around the shophouses in the area for a 'tour'. But the crappy thing was...IT RAINED!!! And especialy when we were in an area with no direct cover back to the underground. NOOOO!!!!! I got so drenched siah.
At this point, I wasn't feeling super anymore. In fact, I felt like my throat was killing me. But I ended up meeting some of the Barflies from CowBoyBar at J-Bar that same evening. I totally had a hard time speaking already at this point. We had a few drinks, I had pizza for dinner then went home. Everyone was so quiet but I guess they were shy? ROFL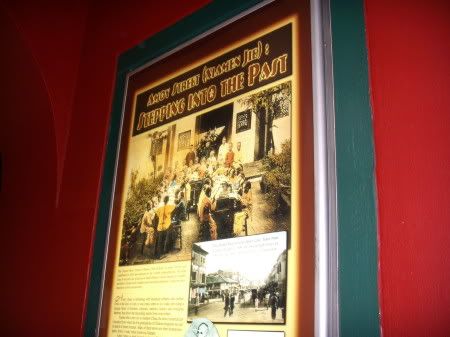 History @ Amoy Street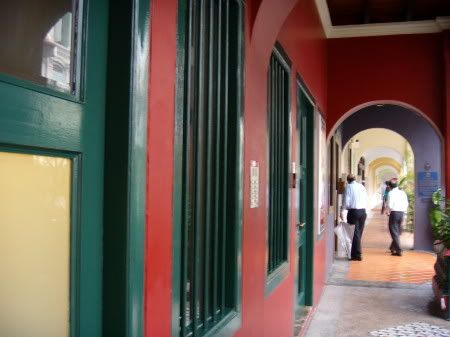 Shop Houses Galore
*****
Friday! I had lost my voice totally.
Our plan was to meet at Chinatown MRT and walk down to the street where all the good food was. Nat arrived shortly after me and when Debs arrived, we walked over first. Finally settled at XO Sliced Fish Been Hoon or something to that effect and ordered lotsa makan. Amy and Chua eventually arrived after getting LOST! HAHAHA.
Amy left first cos she had something else on so the rest of us just stayed around Chinatown to get desserts and drinks.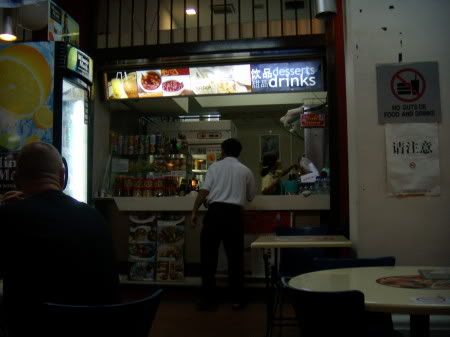 Desserts and Drinks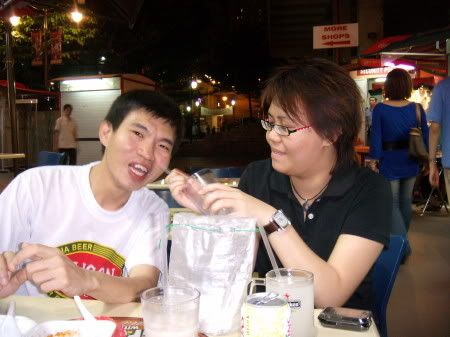 Chua & Debs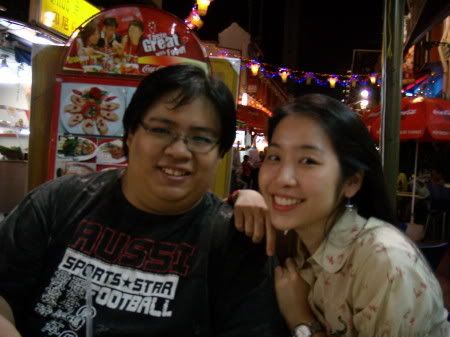 Nat & Myself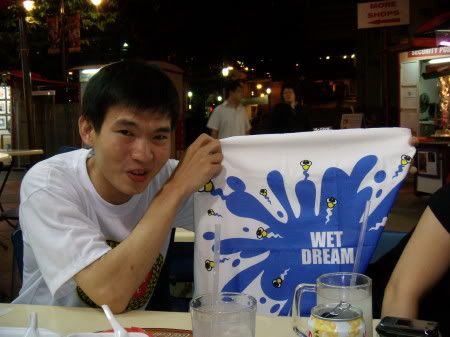 Chua & his wet dream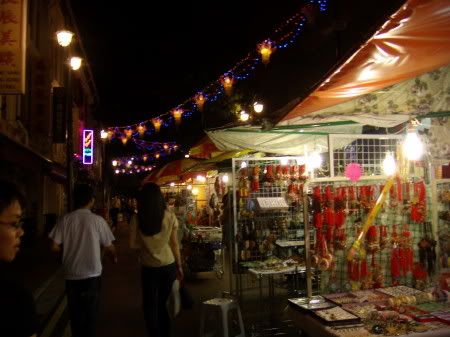 Streets of Chinatown

More Shophouses
Finally, we decided to go to a KTV for some fun. If you're thinking: "KTV??? Didn't you lose your voice?", I won't blame you. But it felt like the funnest thing we can come up with (the other choice being chionging and some bar) so we went for it. All in all, it came up to become a great night of fun and memories (in picture form of course).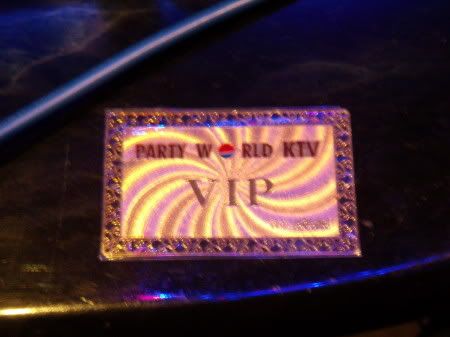 Deb's Super-Beng Membership card to the KTV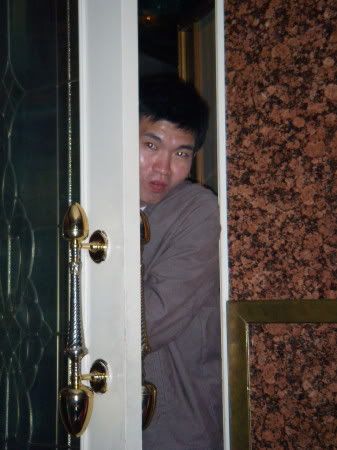 Stalker!!!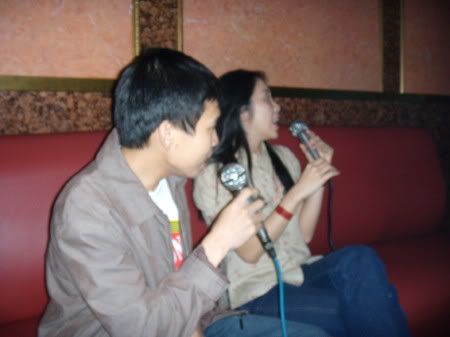 Singing a Duet?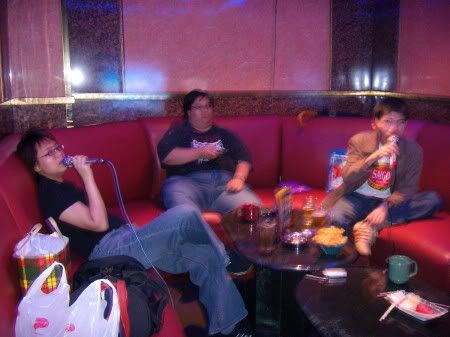 Having Fun?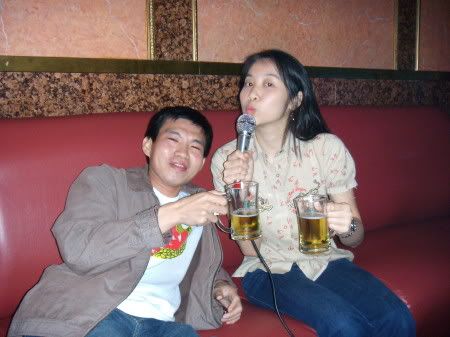 Tsk Tsk...Alcohol...Beer somemore!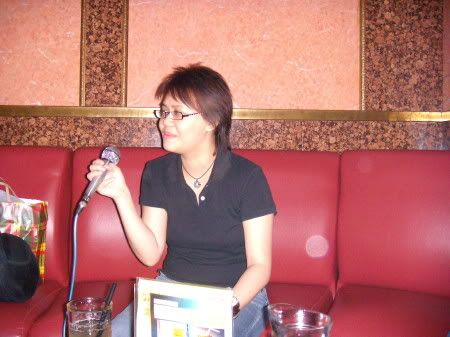 The Next Singapore Idol...ROFL
*****
So New Year's Eve is finally here. We rented a room at The Elizabeth up Mount Elizabeth in the city to relax and have drinking and munchies to celebrate the new year. But before that, I met up with Shell and her hubby at ex-Marche Heeren for lunch. It was interesting meeting new people always. Shell was a ball of fun....hahaha.
After lunch, we walked over to the hotel so that I can check in and get ready for the festivities! The room was solid la...and cheap too! But the only thing was I ordered a room with 2 bed but it came with one gigantic king-sized bed. But that was ok.
The guys (Gav, Greg & Justin) eventually arrived and we had dinner at Taka. Sushi Tei I think...but it was a good dinner. We got our supplies, went back to the room and watched movies. Some of the girls from the CBB dropped in as well and we just hung out until the New Year came round. Was a little disappointed cos I thought there was going to be fireworks shown on TV but oh well....too bad I guess.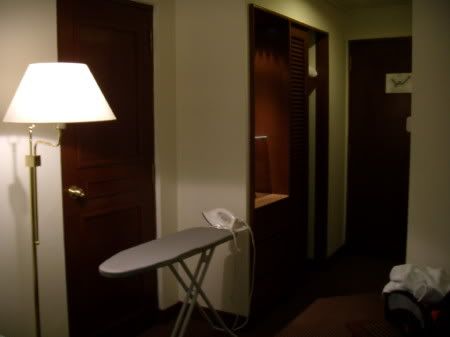 Hotel Room 1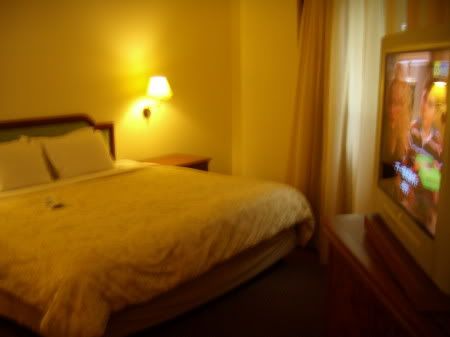 Hotel Room 2
(continued in next entry)